From the talk-of-the-town tree to the breath-taking decorations, Claridge's is synonymous with Christmas. This year, you are invited to share in our festivities. Join us for a Christmas break of comfort, joy and unbridled luxury. Seek out distinctive luxury gifts that will delight your loved ones. Or drop in for afternoon tea with a decidedly festive feel. Whatever Christmas means to you, Claridge's will make your celebrations utterly unforgettable.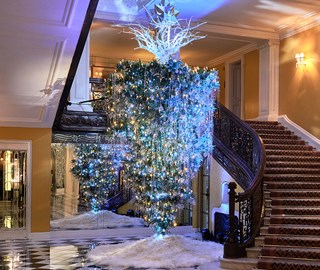 Christmas tree archive
Claridge's Christmas Tree has long been a festive Mayfair landmark, drawing visitors and Londoners alike to marvel at its magnificent design, which changes each year.
See the trees