Claridge's Christmas Tree 2018
'The Tree of Love' by Diane von Furstenberg
Claridge's Christmas Tree 2018 was designed by fashion icon and long-time friend of the hotel, Diane von Furstenberg.
'The Tree of Love' was inspired by Diane's passion and strong belief in the power of love, symbolising life and nature, and drawing particularly from the creative influences of the astrological world. The six-metre sculptural tree was coloured with a blue iridescent lustre and shimmer, and decorated with over 8,000 hand painted silver-leafed leaves, glass spheres and 150 hand-blown glass hearts.
It played host to six different silver-leafed abstract designed animals - an owl represented knowledge and wisdom, a dove symbolised peace, a horse conveyed strength and endurance. Highlighting the importance of nature within 'The Tree of Love', a sculptural deer sat at the base represented gentleness, a peacock represented beauty, and nestled gently sleeping, was a silver-leafed mouse to symbolise curiosity.
The idea of the tree was that all is derived from the universe and the tree winds its way upwards towards the heavens from its roots. Diane had also included important, symbolic words that have long been her mantra including Peace, Harmony, Knowledge, Truth, Freedom, Enlightenment and Wisdom. In order to make this a fully immersive experience, our lobby was reimagined under her creative vision with a magical midnight blue skylight covered in dazzling stars and astrological star signs from the constellation.
Claridge's is my favourite hotel in the world and my home in London. I was so excited to be invited to create its legendary annual Christmas Tree. My tree is 'The Tree of Love', celebrating all aspects of love and life.
Diane von Furstenberg
For this festive project, Diane worked closely with long-time friends and collaborators; artistic set designer Stefan Beckman, artist and illustrator Konstantin Kakanias, and astrologer Shelley von Strunckel.
We are honoured and delighted that our friend Diane has agreed to take up the challenge of designing our annual Claridge's Christmas Tree. Her vision of 'The Tree of Love' could not be more appropriate this Christmas and we believe London will be charmed by the magic Diane has created at Claridge's.
Paul Jackson, Claridge's General Manager
Claridge's Christmas Tree has long symbolised the start of the festive season in the capital, drawing visitors and Londoners alike to admire its magnificent design. This was the ninth year that Claridge's had invited a distinguished guest to reinterpret the tree in their own distinctive style.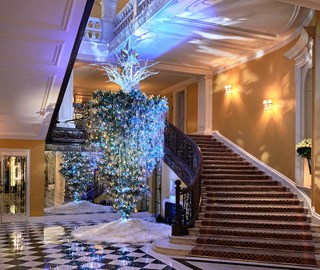 Christmas Tree Archive
Relive the magic of Claridge's legendary Christmas Tree collaborations from 2009 to now.
View archive