Claridge's Christmas Tree 2019
by Christian Louboutin
Capturing the glamour, romance and timeless traditions of Christmas, our 10th anniversary tree was the work of legendary designer – and long-time friend and guest of the hotel – Christian Louboutin.
This immersive installation invited guests on a journey, transforming the lobby into a frosted forest. At its heart was a traditional tree in gold and red, dressed with fairy lights and gingerbread stilettos – and topped with a gold-leaf crown.
Alongside the tree, The Loubi Express was stationed in the lobby. Passengers were invited to step aboard this enchanting red carriage and take a seat in restful red velvet interiors, where just four tables created an intimate setting. Guests could enjoy a glass – or share a bottle – of Laurent-Perrier, or try one of an exclusive collection of cocktails specially created with Christian Louboutin. Accompanying the drinks were canapés and a selection of Claridge's Bar sharing dishes – all served to your lamplit table by our Cocktail Conductor.
I wanted to bring a little bit of Paris to London, and for this year's design to capture the excitement of journeys, whether to new destinations or homecomings.
Christian Louboutin
The unveiling of the 2019 tree heralded the beginning of Christmas in the capital, as our guests, neighbours and visitors from across the globe arrived to experience the season's feasting and festivities. Christian Louboutin's unique installation also marked the 10th year of this creative collaboration between a visionary designer and Claridge's.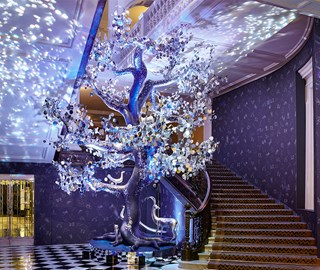 Christmas Tree Archive
Relive the magic of Claridge's legendary Christmas Tree collaborations from 2009 to now.
View archive