Dedicated to the art of viniculture, Claridge's Wine Cellar is an exquisite expression of craft. Step inside to sample an eclectic collection of rare vintages, select a bottle to enjoy in your suite, or take home the perfect dinner party pairing.
This beautifully created space is designed to stoke curiosity, and showcase an extraordinary variety of more than 1000 wines and champagnes. Each has been selected by our experts sommeliers, with a one of-a-kind spirit collection courtesy of Head of Claridge's Bars, Denis Broci.
Journey from the Loire Valley's blush rosés and aromatic Alsace whites, to the cask-aged reds of Spain, Italy and South America. These are bottles from iconic estates and lesser-known producers, exclusive pieces as well as weekend wines to be enjoyed immediately. The collection also includes sweet and fortified varieties, as well as prestige Champagne Magnums and Jeroboams. Meanwhile, spirits celebrate the small batch and the singular – from tropical aged rums to distilleries putting a fresh spin on classic gin production. And for those in search of an elegant gift, glassware, decanters, books and accessories are made for connoisseurs and collectors.


Tasting Experiences
Embark on a guided tasting of four different wines or champagnes from a specific region, led by our expert sommeliers. Experiences are for just six people, and are accompanied by bespoke canapés, carefully crafted to pair with your wine flight.

This season, discover the effervescent world of English sparking wines. Journey across the acclaimed estates of Bordeaux. Or stay ahead of the cuveé with a survey of Louis Roederer Champagnes.


Ruinart Champagne Tasting - 19 October
Italian Wine Tasting - 2 November
Pol Roger Champagne Tasting - 16 November
Ruinart Champagne Tasting - 22 November
Henriot Champagne Tasting - 30 November
Balvenie Whisky Tasting - 1 December
Balvenie Whisky Tasting - 8 December
Ruinart champagne Tasting - 15 December
A Curated Collection
Whether staying at the hotel or simply passing by, step inside the Claridge's Wine Cellar to uncover an expert curation of vintages. And for those special occasions at home, shop a considered selection of limited-edition wine cases and hampers online.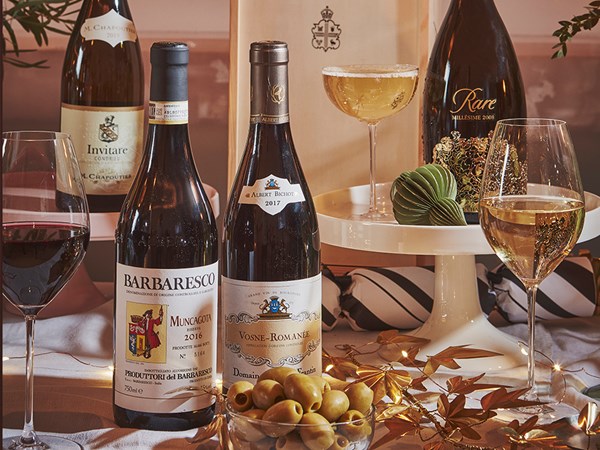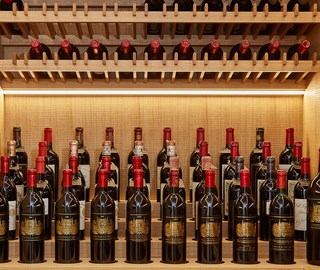 Meet the makers
From esteemed Old World classics to New World discoveries, the Claridge's Wine Cellar invites visitors on a global tour across the winemaking world. This month, we're raising a glass to acclaimed Californian maker, Au Bon Climat. Established by Jim Clendenen, a legendary figure on the American winemaking stage, the estate blends cool climate grapes with the richness of French barrels and craft, to create Burgundy-style Chardonnays and Pinot Noirs of quality, structure, longevity and balance.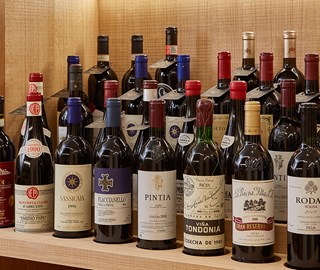 A toast to the house
The pinnacle of the collection is a series of rare vintages. These singular bottles bear the hallmark of the world's finest champagne houses: Krug, Dom Perignon, Domaine de la Romanée Conti, Domaine J.F Coche-Dury, Petrus, Armand Rousseau, Clos Rougeard and Domaine Trimbach. Each one an individual masterpiece.