The spa features steam rooms, saunas and seven luxurious treatment rooms with private bathrooms.
Gym & Fitness
Our state-of-the-art fitness studio has been designed to flex with your individual needs. The connected-fitness gym, featuring top-of-the-range equipment from brands such as NOHrD, PENT and Peloton, allows you to personalise your workout, while our personal trainers are available on demand to train you at the gym or in-room. Whether you're looking to re-energise for the day ahead or stretch and unwind after a long flight, we can tailor your fitness programme to you.
Wellness Concierge
Our personalised approach to wellness and thoughtful curation of both holistic and high-tech experts allows us to adapt to the different moments in your life and create custom experiences. Our spa concierge can craft treatments for a special occasion or devise a longer-term health plan.
Expert Residencies
As part of our commitment to your longevity and restoring your energy, we have collaborated with some of the most celebrated names in wellness to offer a range of services from manicures and acupuncture to vitamin infusions. Please enquire for which expert is in residence this month.
Opening hours
Monday - Sunday: 8am - 9pm
Family-friendly swimming times: 8am - 10am
Please arrive 15 minutes before your treatment is due to start. This will give you plenty of time to change.
Sign up to our spa newsletter for an exclusive look at upcoming residencies and signature treatments.
Send a personalised gift via email or post.
Contact us
Call: +44 (0)207 409 6565
Email: spa@claridges.co.uk
Art of Rituals
Inspired by the art of ceremony in Japanese culture, we have thoughtfully created opening and closing rituals, inspired by temple Koh-do, to accompany and elevate our unique treatments. Our omakase approach to your experience means we are happy to design a perfectly tailored experience for you, or simply lie back and have our discerning team of healers gently move you to a new state of being.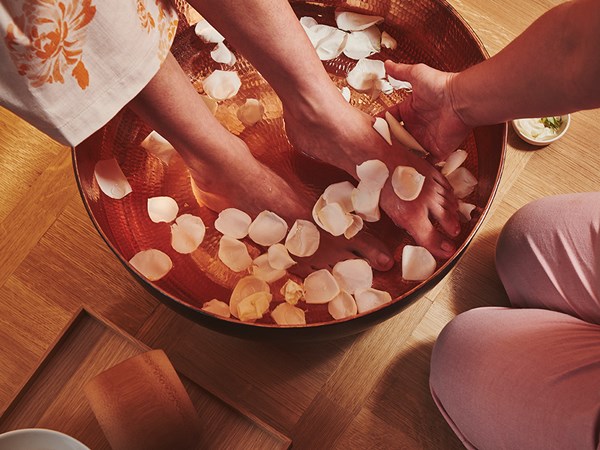 Retreat to the pool
Immerse yourself in an intimate, electrolyte-rich relaxation pool designed by André Fu.