A day in the life of our Hotel Ambassador
I am hugely proud of my role here, but also of what London and the UK have to offer.
Martin Ballard MBE, Hotel Ambassador
The Hotel Ambassador, Martin Ballard MBE, has been at the heart of life at Claridge's for 40 years. Here, he gives an insight into his working day and what inspires him…
Busy mornings
"An important transitional few hours"
Although there are occasions when my phone will ring somewhat earlier, my day at the hotel starts at 8am.
This is when the hotel begins an important, and busy, transitional few hours. Guests are leaving, and others – those who might have been on a red-eye flight from America, for example – are arriving.
I'll be looking after general day-planning enquiries and guests who are departing and require taxis to a meeting, or to one of the airports, so I need to be aware of how the traffic is on the M4, the M23 or the A1.
Planning guests' days
"My contacts book covers every eventuality"
One essential aspect of my role is to know what's on, where's good to eat, and how people can get to where they need to go – not just in London, but in the UK and mainland Europe (even Morocco, on one occasion).
Most of the time, I have a very good idea of current theatrical shows. When it comes to eating, my job is to be able to recommend very good places, across many different styles of cuisine, that a guest can reach with relative ease.
I've built up a good network of contacts at the more popular venues, and given enough warning, I can always put in a call to secure a table. Having said that, the less time I have, the more persuasive I have to be!
A regular of the hotel from New York once called me from Manhattan to ask if I could get him a table at Hakkasan. I was just about to hang up and book it when he kindly pointed out that he wanted a table at Hakkasan, New York. He had no doubt I'd be able to make it happen. That's the kind of compliment I really enjoy.
Prudence is important, too. I have to be very conscious that I'm spending other people's money when recommending restaurants, shows and travel options. So, my contacts book covers every eventuality and budget.
London knowledge
"I am hugely proud of what London and the UK have to offer"
A very important skill is to have a good feel for times and distances – and an ability to flex these depending on what I shall diplomatically call the 'vitality' of the guest. I've got a very good idea of what you can reach within 15 or 20 minutes' walk of the hotel, further if necessary. I can also advise people on what they might be able to do if they have a very specific window of time.
I'm hugely proud of my role here, but also of what London and the UK have to offer, and, in my own way, I'm the vanguard for what's great about being here.
I am always aware of London's annual events – from The Chelsea Flower Show, which I love, then Royal Ascot, through to the Wimbledon Lawn Tennis Championships.
I travel a lot every day, accompanied by anything up to four phones. Being on the move and meeting colleagues to satisfy a guest's specific requirements makes every day different.
At the end of the day
"I'm part of a much bigger team"
Most days, I will finish my tasks for the day at around 5pm. But I need to be flexible, so I'll be ready, like any of the team, to provide support at an evening event, or when we get particularly busy, if a wedding or launch is taking place. I'm part of a much bigger team, with experts in every area. When we all get together, it reminds me how passionate everyone is about making the Claridge's experience the very best it can be.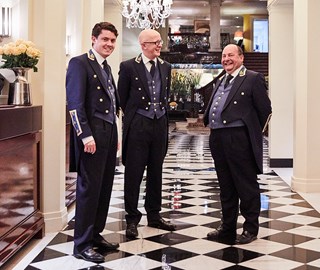 A royally good Hotel Ambassador
Martin's exceptional service has been recognised in the Queen's Birthday Honours List – so for one day only, he will be swapping Mayfair for the Mall, and heading to the palace to receive an MBE.
The interview