Claridge's Christmas tree archive
Claridge's Christmas Tree has long been a festive Mayfair landmark, drawing visitors and Londoners alike to marvel at its magnificent design, which changes each year. Scroll down to explore Claridge's Christmas Tree designs through the years.
2022: Jimmy Choo
Named 'The Diamond', Claridge's Christmas Tree 2022 was designed by long-time friend of the hotel, Sandra Choi for Jimmy Choo and realised by Set Designer Simon Costin. This magnificent sculptural creation was crafted from reflective mirrors and accented with light which pulsed and undulated, and was created for guests to enter and stand inside to take in a magical and shining, diamond-refracted space. The tree was finished with a giant, glittering bow topper.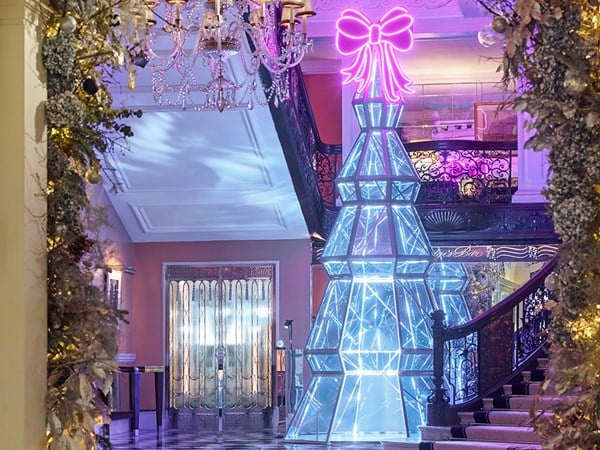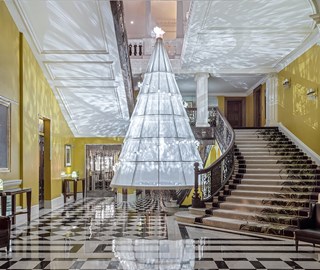 2021: Kim Jones
Named 'The Celestial Snow Globe', Claridge's Christmas Tree 2021, was created by Kim Jones, Artistic Director of the Dior men's collections. This unique, contemporary tree – luminous and crystalline in its transparency and purity – told a Christmas story woven from emotions and dreams.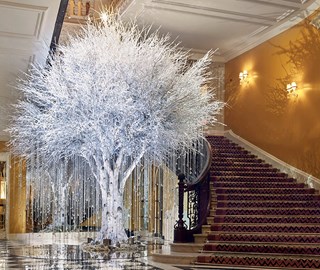 2020: McQueens Flowers
Inspired by the Roaring 20s, a frozen dreamscape was created by McQueens Flowers with a white frosted tree adorned with shimmering swathes of over 10,000 crystal garlands and pendants. Taking up its place beneath the lobby staircase, this Christmas tree sat upon a mirrored pool with light reflections playing around the space, enhancing the sense of an immersive dreamland, with a mystical, iridescent and ethereal feel.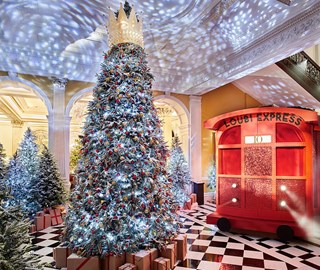 2019: Christian Louboutin
Capturing the glamour, romance and timeless traditions of Christmas, our 10th anniversary tree was the work of legendary designer – and long-time friend and guest of the hotel – Christian Louboutin. This immersive installation invited guests on a journey, transforming the lobby into a frosted forest. At its heart was a traditional tree in gold and red, dressed with fairy lights and gingerbread stilettos – and topped with a gold-leaf crown.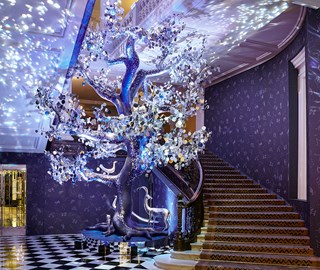 2018: Diane von Furstenberg
Fashion icon and long-time friend of the hotel, Diane von Furstenberg, designed Claridge's Christmas Tree in 2018. 'The Tree of Love' was inspired by Diane's passion and strong belief in the power of love, symbolising life and nature. The six-metre sculptural tree was coloured with a blue iridescent lustre and shimmer, and was decorated with over 8,000 hand painted silver-leafed leaves, glass spheres and 150 hand-blown glass hearts.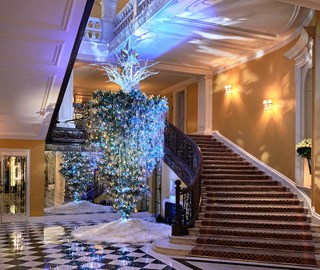 2017: Karl Lagerfeld
One of the fashion world's most influential creative forces, Karl Lagerfeld, designed Claridge's Christmas Tree in 2017. Inspired by childhood memories of Christmas, his installation featured a series of inverted spruce trees placed around the hotel lobby. The centrepiece was a 16-foot inverted tree reminiscent of a silver stalactite, topped with silver gilded roots and a multi-faceted, mirrored star. Underneath, Icelandic sheepskin rugs were positioned to suggest a recent snowfall.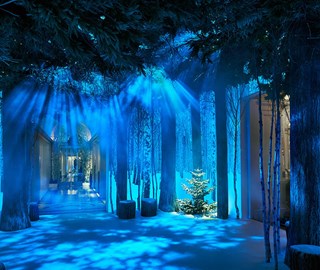 2016: Sir Jony Ive & Marc Newson
In 2016 Claridge's lobby was home to much more than a Christmas Tree. Sir Jony Ive and Marc Newson, in collaboration with renowned British set designer Michael Howells, created an immersive festive installation with four-metre high light boxes, rose cast models of Scots pine and natural and photographed silver birch and fir trees.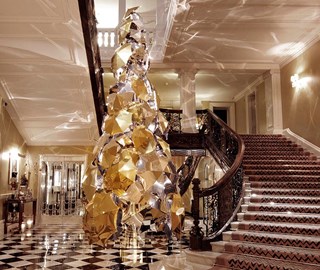 2015: Christopher Bailey for Burberry
2015 marked the first time that Claridge's had a British designed Christmas Tree. Christopher Bailey's creation featured over 100 umbrellas, each finished in bespoke gold and silver metallic fabric, and thousands of motion-sensor lights, programmed to sparkle and glitter as guests walked by the tree. The 2015 Claridge's Christmas Tree was a true celebration of the two brands' shared British heritage.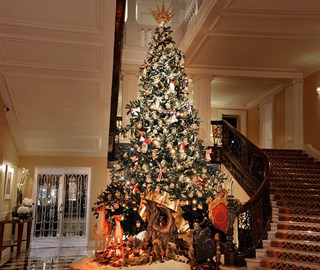 2014: Dolce & Gabbana
In 2014 Domenico Dolce and Stefano Gabbana designed Claridge's Christmas Tree for a second year in a row. Inspired by their childhood memories and to celebrate children of the world, the eight metre-high tree brought a magical woodland to life in the heart of Mayfair. The tree was adorned with hand-painted glass baubles representing the many festive traditions celebrated the night before Christmas.
2013: Dolce & Gabbana
Domenico Dolce and Stefano Gabbana were the designers behind Claridge's Christmas Tree in 2013. They presented a seven metre-high Christmas tree, reinterpreted with Sicilian elements that drew on their Italian heritage. The tree was adorned with more than 450 hand-blown Italian festive glass baubles and a bespoke 'luminarie' framework, with the base of the tree featuring 30 hand crafted Sicilian marionettes (Pupi).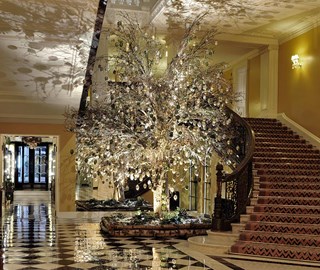 2012: Kally Ellis of McQueens
In 2012 Kally Ellis of McQueens designed Claridge's iconic Christmas Tree. Her creation "Forest Murmurs" drew inspiration from the natural world, lending it a contemporary twist. The Christmas Tree featured magnolia branches and lichen moss, studded with crystal and emerald jewel eggs in white, gold and silver to create a canopy of colour and glamour to reflect the art deco beauty of Claridge's.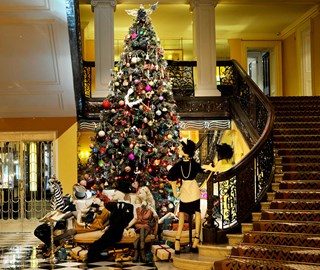 2011: Alber Elbaz for Lanvin
Alber Elbaz for Lanvin designed Claridge's Christmas Tree in 2011. Alber created a dream world of colour and fantasy with his signature marionettes and a silk figurine of himself with trademark glasses and bowtie at the top of the tree. An infusion of tradition and modernity, Alber's fantastical Christmas dream was brought to life in Claridge's art deco lobby.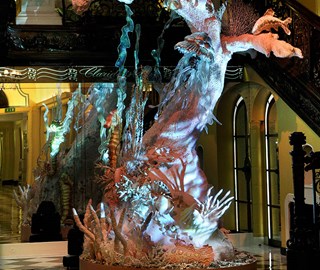 2010: John Galliano for Dior
In 2010 Claridge's welcomed back John Galliano for Dior to design its iconic Christmas Tree. The celebrated designer unveiled his spectacular "Under the Sea" creation in Claridge's art deco lobby - a Christmas Tree made of sparkling silver leaves, pink coral, sea horses, fish, anemones, starfish and jellyfish - truly one of a kind whimsical design.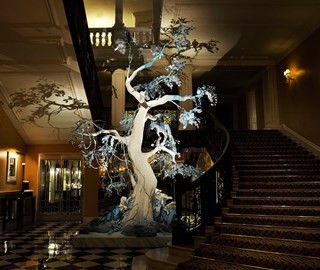 2009: John Galliano for Dior
2009 marked the first time Claridge's Christmas Tree was to be designed by a famed fashion designer. The Christmas Tree by John Galliano for Dior evoked a frozen twist on tradition with a tropical tree completed with snow leopard, dragon flies and parrots, echoing Claridge's art deco surroundings.