Champagnes and cocktails, served in style. There is nowhere quite like Claridge's Bar.
To complement David Collins Studio's art deco-influenced interior, we have sourced an extensive collection of drinks – from rare champagnes to sought-after spirits. Enjoy them as they are, or ask your bartender to mix up a cocktail.
Sample Menus
Reservations
To respect the privacy of all our guests we kindly ask that you refrain from taking photographs.
Opening hours
Monday - Saturday: 12pm - 1am
Sunday: 12pm - 12am
Contact us
Tel: +44(0)207 107 8835
Email:bars@claridges.co.uk
Child policy
Only children who are resident at the hotel may enter the bar, if accompanied by an adult. Please note that children are welcome in the bar until 6pm.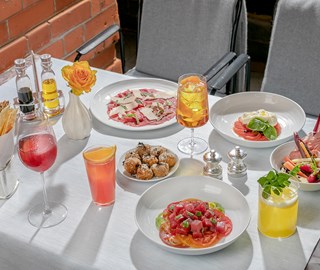 The Terrace
A beautifully secluded spot, join us on The Terrace for fresh flavours, seasonal cocktails – and a dash of the Mediterranean in Mayfair as we welcome chefs from one of our favourite spots in the world, Hotel Santa Caterina. This menu, created in collaboration with Claridge's chefs, brings a touch of La Dolce Vita to The Terrace throughout the summer. Think beef carpaccio with peppery rocket, white truffle pizza and citrusy spaghettini.
Make a reservation
Cocktails to savour
From timeless classics to recipes unique to Claridge's. Discover the stories and unique twists behind our perfectly crafted cocktails.
Vintage champagnes
Our exceptional collection of champagnes from the world's finest marques is a delight for any connoisseur.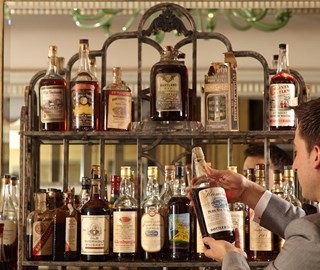 Prohibition whiskeys
Claridge's Bar carries a selection of rare whiskeys produced by American distilleries before and during Prohibition. Whiskey from this era was made by select distillers licensed to produce the spirit for 'medicinal use only'. Taste the difference between whiskeys of the past and present, and discover the stories behind every bottle.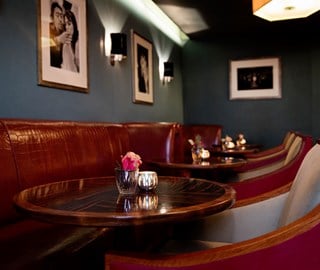 The Snuggery
Adjoining Claridge's Bar is The Snuggery, an intimate room which seats up to 20. The ideal spot for a quiet conversation, it can also be reserved in its entirety for a private lunch or cocktail party.