The Penthouse at Claridge's
Unveiling a new level of luxury, this sky-skimming addition to London's panorama spans the entire rooftop of Claridge's. Glass-wrapped and studded with skylights, The Penthouse is flooded with views of changing skies across Mayfair from sunrise to sunset.
Inside the Penthouse
The inside story of The Penthouse is one of untold artistry, where every element has been carefully crafted and expertly curated. Here, fluid architectural lines and organic tones create a sense of serenity. With contemporary artworks and panoramas that frame the shifting London skyline, beauty lies in every direction.
A refined residence
While many craftspeople have made their mark on The Penthouse, this expansive yet intimate space is yours to define. Discover the rooftop garden of water and glass, where the private, heated pool and piano pavilion appear to float above the horizon. Rotate the custom-made sofa to follow the sun. Then master the art of entertaining, with the sun-drenched grand salon, dining space for 10, kitchen and wine cellar – alongside a quartet of bedrooms.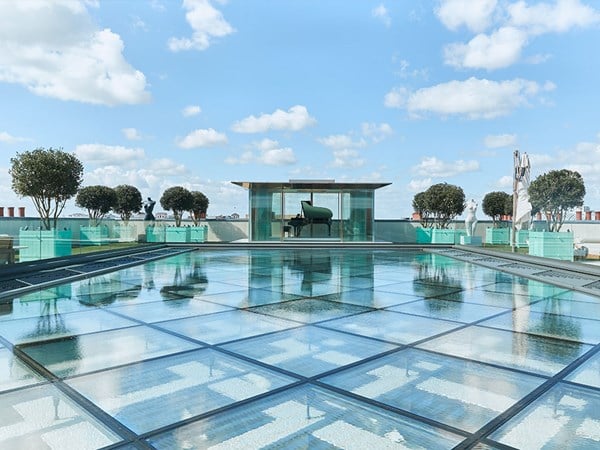 The capital, captured
Rise each morning with the sun as it arcs over The Penthouse, casting a golden glow through the nine skylights punctuating the space. Whether perfecting asana in the gym pavilion or taking in starlit city views from the studio salon, a sequence of floor-to-ceiling windows put London in the limelight.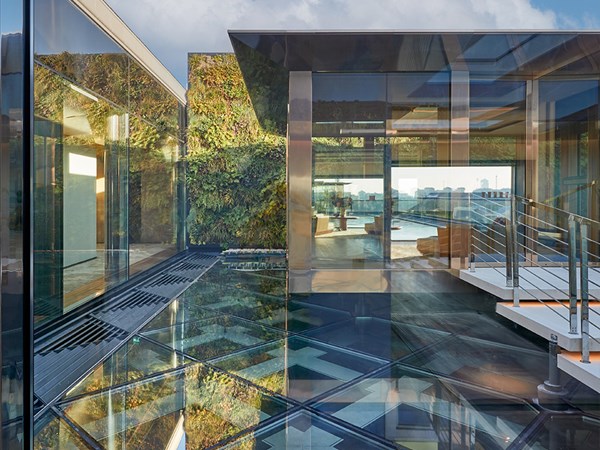 Immersive elegance
Soak up the inimitable flair of The Penthouse from the four bathrooms, with ultra-deep tubs and tranquil colour palettes bookending the individually styled north and south wings. Unique patterns of light and shade ripple across the polished wood and marble that define these soothing spaces, mirroring the movement of water.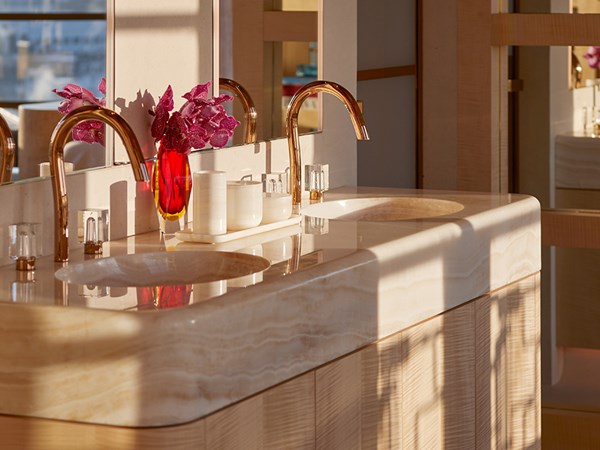 Bright lights, big city
The skyline is the limit here. Wrapped in London's most iconic sights, the distinctive silhouettes of historical landmarks and modern monuments lie in every direction, and expansive Royal Parks are at your feet. Take in the 360° panorama from the water garden, then step inside where every aspect of this ever-evolving space reflects the cityscape beyond.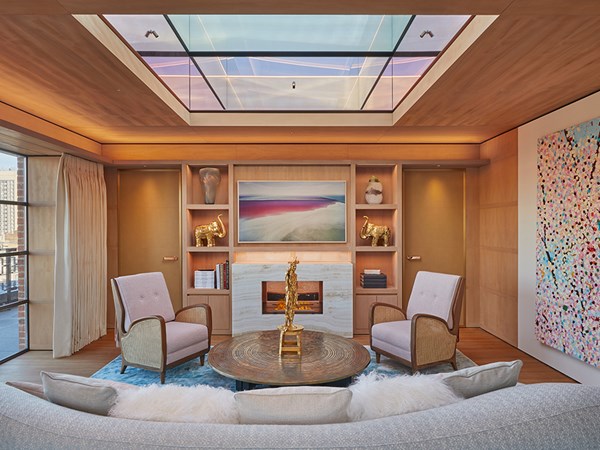 Distinctive by design
Written across The Penthouse is the creative language of Rémi Tessier, who perfected his craft in yacht design. Organic and pure, straight lines flow across the individual wings, both with their own identity – but together, forming an effortless sense of harmony. In each are rare and refined materials: ziricote, Lebanese cedar, green onyx fireplaces and the distinctive burl wood dining table that forms a statement-making centrepiece.