We are taking reservations for The Foyer & Reading Room from 17 May 2021, subject to government guidelines.
For many visitors to Claridge's, the Foyer is the first thing that captures their imagination. In the centre of the room a striking Chihuly sculpture hangs like a chandelier. The walls shimmer with original art deco mirrors. Music drifts from the grand piano. It is here that breakfast, lunch, dinner and afternoon tea are served, as well as our inventive twists on classic cocktails.
Sample Menus
Breakfast Menu
All-day dining Menu
Children's Menu
Afternoon Tea Menu
Wine List
Reservations
Opening hours
Breakfast: Monday - Sunday: 7am - 11am
Lunch: 12pm - 1.30pm
Afternoon Tea: 2.45pm - 5.30pm
Dinner: 7pm - 11pm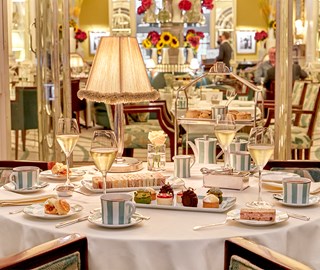 Afternoon tea
English tradition at its finest. Dainty finger sandwiches, freshly-baked scones and delicate pastries, accompanied by specially-selected teas.
View the menu
The Foyer Private Dining Room
Cocooned in the heart of Claridge's, the Foyer Private Dining Room is the ideal setting for a private banquet.
Find out more
Executive Chef, Martyn Nail
Martyn joined Claridge's in 1988, serving as third commis chef. His inspired approach and dedication saw him rise to become our highly-respected executive chef in 2004.
Claridge's: The Cookbook
From our acclaimed chicken pie to The Flapper for cocktail hour and even the secret techniques that make our scrambled egg so light and fluffy: for the first time in Claridge's history, the extraordinary experience of dining at our hotel has been brought to life in book form.
Buy now